Play Kiba & Kumba Jigsaw Puzzle free in your browser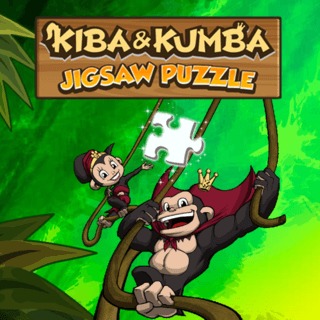 Kiba & Kumba Jigsaw Puzzle
40 levels of brain-teasing jigsaw puzzle action with KibaGame's beloved apes Kiba and Kumba. Puzzle your way from the jungle all the way to the ice fortress of the evil Doctor Slipp van Ice.
Puzzle your way through a world full of fantasy
Kiba and Kumba have accompanied us through many games already, wether it's a platformer or one button games. And since they are a famous brand not only for kids, but for the whole family, they now have their own puzzle game for Android and iOS as well. Most of the time they are being chased by the aforementioned evil penguin professor. He never succeeds, of course. But it's not for lack of trying.
Follow Kiba and Kumba through 40 levels across a huge world map with lots of colorful and funny puzzles. You start in Kiba and Kumba's home jungle, the Whimsical Woods. From there you can make your way across to the Dusty Desert in the west of the island. Once you have passed all the puzzle games in this part of the world, the journey takes you to the dangerous mountains and caverns of the Moody Mountains. Your last puzzle challenge awaits you in the north of the island on the Frosty Floes, the home of evil genius Doctor Slipp van Ice. Once you have beaten all puzzle games across this adventurous journey, you again successfully helped Kiba and Kumba defeat the evil penguin.
A puzzle game adventure for Android and iOS
You can play this puzzle game instantly on your smartphone or PC. No downloads, no waiting time. And of course the whole game is free of charge. As we have already mentioned, the core of this puzzle game is to finish all 40 puzzles. In the very beginning the puzzles are easy to complete. But that's of course just to tease your brain a little bit and make it hungry for much more challenging puzzles that await you on your odyssey through our fantasy world.
Kiba and Kumba Jigsaw Puzzle is the most beautiful and lovely puzzle game you will find for your Android and iOS smartphone. The two friendly apes known from KibaGames are counting on your help again.
We have already talked about the journey you have to take to help Kiba and Kumba against evil forces. But beating the puzzle story mode is only half of the fun of this game. Once you have completed all puzzles, why not try to become the ultimate speed puzzle game master and complete all of the 40 puzzles in record time?
Easy controls for relaxing puzzle game fun
First of all you find yourself looking at the huge world map. Select level one and start puzzling right away. Gameplay is very simple. You can drag all tiles to the right place with your finger. Once you move two fitting pieces really close to each other, they will automatically connect. Once connected you can move the combined pieces as one.
Like in a real puzzle board game it is always helpful to tidy up a little. Try to find the corner pieces first, because this will help you find the other pieces and bring a little tidiness to the screen.
Once you have finished a puzzle you will be redirected to the world map. Choose the next level and start your epic puzzle journey.
Kiba and Kumba are counting on you to help them solve the trouble that Doctor Slipp van Ice is causing again. Don't let them down, friends!
More Games